Nothing to lose, a lot to win
THE DIFFERENCE BETWEEN IMPULSIVE AND CONSCIOUS BUYING
Influencing someone to buy a pair of shoes requires a very different approach than the omnichannel marketing strategy needed to convince a company and its DMU to invest in a new software technology.
These complex purchase processes require a specific marketing approach that recognizes the search and respects the investment and consequences of the purchase.
See also: Traditional B2B Sales and Marketing Are Becoming Obsolete in Harvard Business Review
Compared to impulse buying, marketing for targeted purchases requires more research, reflection, price comparison, competitive analysis and planning.
Through a deeper analysis and understanding of audience considerations, by 2022 companies will be able to implement the right marketing strategies that are better aligned with the needs and expectations of B2B audiences.
Read in this article (reading time 5 minutes):
The thoughtful decision process
8 differences between impulse marketing and targeted purchase marketing
THE THOUGHTFUL DECISION PROCESS​
The B2B sales cycle for new customers takes an average of 4 to 6 months. For example, in the Industrial Services category, the sales cycle is long because the financial investment is high and there are multiple stakeholders involved. This requires a highly personalized marketing approach (read the case: CyberArk), with several contact points to close deals.
A care decision also falls into the rational purchase category; whether it's a consumer looking for alternative cancer treatments, or a B2B healthcare provider selling medical technology. The road to a targeted purchase is one that is made with thought and consideration.
By the time most B2B buyers search for a supplier, they have already gone through the problem identification and purchase criteria phases.
While B2B buyers are motivated to consider a product or service based on price and quality, other factors also matter. For example: the total cost of ownership, maintenance and depreciation, to the role of the person who makes the purchase decision. We see this especially in the higher decision-making levels.
This is where understanding the key differences between impulse marketing and intentional purchase marketing can help tailor messages more effectively.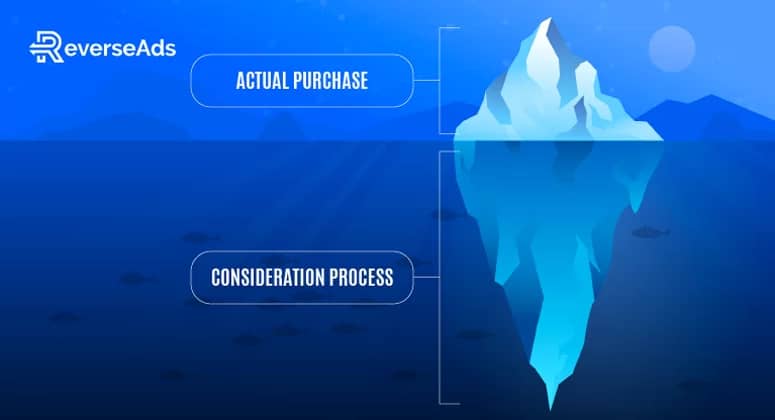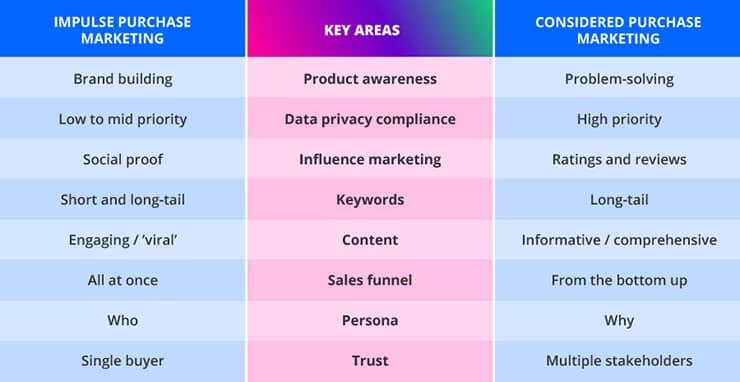 Display advertising without a bidding system
8 differences between impulse marketing and B2B marketing
1. Product awareness
While making a well-thought-out decision, the prospect begins their journey because of a particular problem that arises. Once that pain point is identified, they begin to research and compare solutions to that problem. Thus begins their orientation along the purchase path.
Unlike impulse buying marketing, focusing only on deals doesn't work as well, because price isn't the main motivator – solving the problem is.
2. Data Privacy Compliance
To protect the most valuable consumer data, a series of security protocols have been put in place that certain sectors must follow.
These protocols are linked to online advertisements that allow for higher data security, but they also give consumers more control over their financial data.
With the shift to the digital age and the rise of electronic records, the demand for more secure data has only increased.
3. Influence on marketing
Reviews have a greater impact on the purchase decision of more expensive products that receive more attention.
Well-thought-out decisions rely on the quality of the educational content and the amount of reviews.
By focusing on improving and leveraging reviews, advertisers gain credibility and can easily set up a process to get more constructive reviews from satisfied customers.
4. Keywords
When considering non-impulsive purchases of $1,000 and above, people look for long-tail keywords that are specifically tailored to their needs, rather than generic keywords.
Marketers need to identify specific niches for their targeted advertisers, as buyers are willing to spend more time comparing specs and prices on the open web before choosing a quality niche product. Therefore, tailor hyper-personalized advertisements to the unique intention and behavior of potential buyers.
5. Content
Targeted buyers want to include as much information as possible before making a final decision.
Provide relevant information that speaks to their pain points, rather than simply pushing product or service features that may not resonate.
Optimize the landing pages of products and services with comprehensive pricing, comparisons, details, images, how-to videos, comprehensive blog content, or any other kind of content, so buyers can see exactly what they're getting and why it beats the competition.
6. Sales funnel
In an information-centric purchase funnel, there's a greater risk that the buyer will jump out at any point where they feel the brand isn't solving their pain point or meeting their needs.
7. Person
Understand how a thoughtful prospect views the problem, compares the solutions, and ultimately what the rationale is that persuades them to make a purchase.
8. Trust
Trust In the B2B segment requires more than just gaining the trust of a decision maker.
Customers see through false sales pitches and you have to deal with the DMU of the company. These purchases do not take place because of hype or huge discounts, but prioritize finding practical solutions.